The National Archives have granted me permission to display a few of my research documents from their files online. There's a fair haul of material relating to Bletchley Park at the archives, including info on billeting, the canteen, the recreation club, maintenance, accidents etc. However the file I found most useful and interesting was HW62/8 Miscellaneous Papers: Breaches of Security.
They have a great setup there whereby you can photograph all of the docs you use for research, so if you're squeezed for time (as I was, coming down from Edinburgh) you can just take pictures and look through them later. These were taken on a phone so the quality isn't great but if you click on any of the pics, they'll pop up full size (and if you click again on some of the smaller ones, they'll zoom). Please don't download any for commercial use as I'll get in trouble.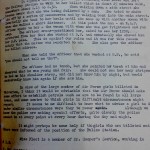 'eventually she showed him her BP pass…' This letter relates to a Bletchley Park worker who was followed home one night by stranger. He asked to see her papers and later chastised her for it.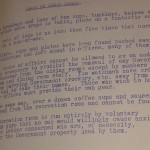 The mystery of the missing crockery! 'over a dozen cups and saucers disappeared from the recreation room and cannot be found'. Disputes over food, crockery etc surfaced as a theme during my research. There's a story about one don who used to throw his mug in the lake after he'd finished his coffee, and apparently Alan Turing kept his coffee cup chained to the radiator. Docs like this may cast some light on why…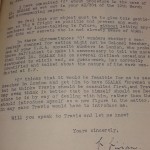 'our object must be to give this gentleman as big a fright as possible…' A letter here to Nigel de Grey, one of the park's high level Lt Commanders, on dealing with loose-tongues.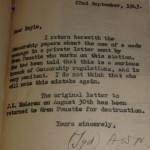 Here a Wren breaches censorship regulations by writing to a friend in code, a huge security risk at the Park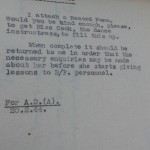 A memo on the background checks on a dance instructress. It's not clear from this if she was allowed in the grounds or if lessons were offsite.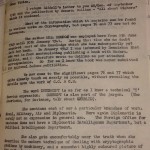 This one knocked me for six. It is remarkable how calmly it's dealt with by the correspondents. A former Bletchley Park employee is gearing up to publish a book titled 'All About Ciphers' while the war is still going on (1943). According to the letter, 'She gets uncomfortably near the truth…'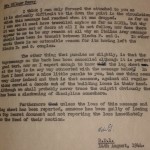 'Someone has been guilty of losing a Top Secret document and not reporting the loss immediately…'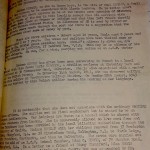 One thing that surprised me was how wartime xenophobia applied to allies too. Here's a note about spying on a French woman.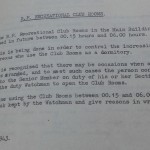 Employees working or socialising late used the rec club room to kip over, until the authorities put a stop to it.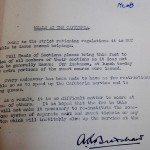 It is NOT permissable to issue second helpings. (note the extra 100 portions were of dessert)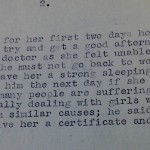 A terrible fact – and one close to my own heart – is that many young women suffered mental health problems at BP. This is part of a memo with a report from the doctor of a girl who had been signed off temporarily.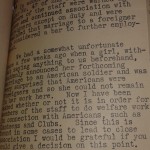 Marriage to a foreigner prohibited further work at the Park, including to Americans.
'Naturally we cannot answer for his wife…' Relationships in trouble came up a few times during my research, and usually sympathy for the man was the stance adopted.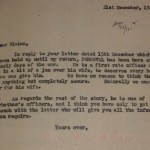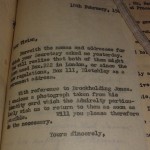 Reference to PO Box 222 and 111, where BP workers' post would be sent.
This one's interesting. As above, many BP workers suffered mental health strain. Here a letter from Nigel de Grey casts suspicion a doctor using hypnosis as a remedy.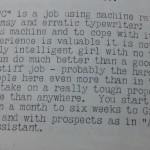 This is the description of Typex work, which Honey does in the book. 'A stiff job – probably the hardest work…'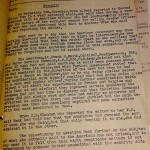 This document generated one of the key plot points in the book. A man wanders where he shouldn't at a dance.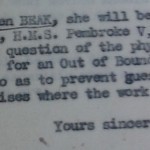 …and a WREN is disciplined for it.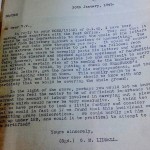 Here it's debated whether to intercept the post of a man who had a breakdown. 'We could hardly get him shut up under 18B.'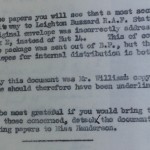 Astonishingly several times post went awry and in this case, ended up very much where it shouldn't.
There are many more of these, and when I get round to it I'll post a page with my research reading list on it too.