When everyone around you is keeping secrets, how do you know who to trust…?
The Observer Best Holiday Reads 2016: "a spooky and complex psychological thriller set in Bletchley Park during the second world war. Atmospheric and engaging." Ian Rankin
"a richly imagined WWII-era thriller…Ribchester movingly reflects on trust, illusion, and the stories that connect us to our pasts." Publishers Weekly (starred)
"In such an atmosphere of intrigue and isolation, Honey spins an elaborate explanatory narrative…leaving readers hard-pressed to sort it all out before the surprise ending. Ribchester's second historical novel is both a quirky satire of WWII spy fiction and a complex, suspenseful story filled with unusual details portraying women's lives during the war." Booklist

"a Hitchcock homage almost worthy of the master." Kirkus (starred)
"Ribchester is a natural storyteller, great at vividly evoking a scene, precise in her detail and atmosphere, and with a wonderful imagination to boot". Doug Johnstone, The Big Issue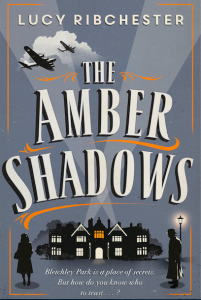 On a delayed train, deep in the English countryside, two strangers meet. It is 1942 and they are both men of fighting age, though neither is in uniform. As strangers do in these days of war, they pass the time by sharing their stories. But walls have ears and careless talk costs lives…
At Bletchley Park, Honey Deschamps spends her days at a type-x machine in Hut 6, transcribing decrypted signals from the German Army. One winter's night, as she walks home in the blackout, she meets a stranger in the shadows. He tells her his name is Felix, and he has a package for her.
The parcel, containing a small piece of amber, postmarked from Russia and branded with two censor's stamps, is just the first of several. Someone is trying to get a message to her, but who? As a dangerous web weaves ever tighter around her, can Honey uncover who is sending these mysterious packages and why?
And…here's a link to my pinterest board, and some wartime tunes that made up the soundtrack to my writing.